SO...here we are, a little over a month upon return of our trip! Recovered yet? Not so much:) Life doesn't hold up and wait for you to be ready for it tho now does it?! ...so we're going and going (if you really wanted to know 'how I'm doing;0')
Tyler's work had an event in Florida. When we got wind of this, our first thought was: Emma and I need to come with so we can visit with Thomas, Steph and Justin! ..OK, my first thought. I maybe was also thinking: We MUST take Emma to Disney World! Tyler's never been, and I haven't been in years! canNOT pass up this opportunity!
After much prayer, a side project to back us financially, permission from Tyler's job (for us to go with), a thumbs up from the Boyd's and cashing in of a few free flights (thank you, SWA!) we moved forward with planning. I was a research NUT! We booked in October and I told myself I wasn't going to allow any research or thinking (aka freaking out) about traveling with a 16 month old including flights, long drives and unfamiliar places and people...not to mention some 24/7 mama time (since T'd be working 90% of the trip) until November. I did good and followed my rule:) Then the bombarding began, hitting up people I'd known had done traveling with 1-2 year olds, endless online research, and even an email to TSA (just to be sure, and have it printed out in writing in case anyone gave me grief).
Even Tyler was shocked at that one, but after a few seconds, I'm sure he was thinking, "That's my girl."
C'mon, you know I'm a crazy planner and you really don't put any of this past me. (and if you didn't know me well prior to this post, well, now you know parts of the real me;0).
Our journey began on Dec. 3. We flew out to Orlando. With all my research on the unknowns (so, Emma and all things flying), I didn't put much thought in to Tyler and I during the flight. I saw we had a stop in LV. I assumed we'd be out of the plane for about 20 mins. Plenty of time to purchase lunch. Or, we could purchase something on the plane. Did you know SWA doesn't sell food? :) good thing I'd packed a tone of crackers, gold fish and cheese for emma. I was slightly grumpy by the time we got to the hotel - 1 AM FL time; we left our house at 9:30AM - (after waiting for luggage, getting the rental and driving about 30 mins).
well, i am all about background infos, right?! Guess I felt it was necessary for you to know that part;0
Tyler's work day started at 10 am 12/4, so Em and I went to drop him off and headed on a 3-4 hour drive to Aventura!
OH, in case you were wondering about Emma - she actually did REALLY well on the flight! She didn't nap, but loved having all the people's attention sitting around us, watching videos, reading books, bouncing from lap to lap to car seat. AND the no-nap sitch and late night allowed us to drop her right back in to schedule, according to EC time the next day! (almost) perfect. ...more 'emma sleeping' side notes in a later post...
Here's Em at the airport all strapped in and eating some fishies to pass the time. Wish we would have gotten a pic of the whole stroller ;0 we had the car seat strapped on to it, her diaper back pack...the works!
Em absolutely LOVED Florida. We played a lot in a house FULL of toys!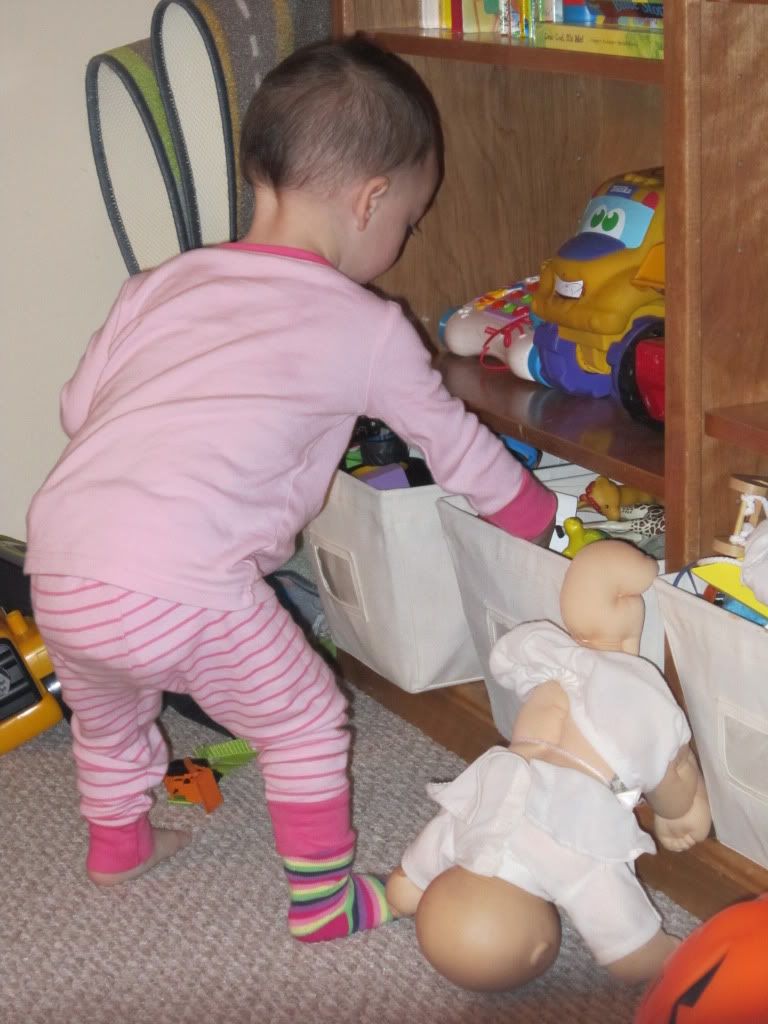 She discovered (her new fave) Elmo, and learned to play like a big kid - getting in and out of chairs, sitting up at (little) tables to play, drawing, coloring...she loved going to the park and playing there. Mama not so much. Just about broke my heart the first time we went. She needed no assistance from me anymore ;(...I was like, "OK, may as well go sit on my bench and watch her go about." My little girl started to grow up on this trip, beginning to be all good on her own.
During Thomas' lunch one day, we went out to fly a kite ;0
Em thought it was pretty neat! (Saying 'Oh' here)
There are lots of fun pics (and stories;0) that I want to share with y'all from our trip, so I will space them out a bit, through multiple posts, so as not to overwhelm you with both words and photos now. Stay tuned for the next post!