I have know the Michael W. Smith song Friends since my freshman year in high school.
One of the older cheerleaders would sing it whenever we'd have cheer bonding time, and I just really loved the song.

(that tidbit of info was so pertinent, right?!)
A few days ago, I was thinking about a really great friend of mine who went to be with the Lord 4 years ago today and this song came to mind. I guess I hadn't really listened to the lyrics in a really long time. Definitely not since knowing what a 'friend forever' really is.
Today I wanted to share about a very special lady that I cannot wait to see again. Melissa. She and I became friends in 7th grade through mutual friends. Usually when girls find out they have an old boyfriend in common it makes them bring the claws out...come on, you know it's true!...BUT, this girl and I just smiled and laughed it off and let that be our glue to come together. We hung out with a group of girlfriends pretty regularly until everyone branched off in different directions for college. We played softball together for many years. We traveled to Hawaii together for our HS grad trip...so many memories ;0 We grew closer together after the high school days through some bouts of cancer that she suffered through and planning her wedding.
Tho we have an endless reel of memories that we share, there is one memory that stands out the most to me. When my dad passed away, I felt completely alone. All I wanted was to be surrounded by friends. I was off from work about 5 weeks and surrounded by family visiting my mom, since I lived at home at the time. I had 1 friend come by the day after he passed, and I'm grateful for that visit ;0 I had another visit from Melissa. She came over to just hang out....after a radiation treatment. She drove herself over to my house and we just sat in my room, on my bed and talked. She brought me a CD I hadn't heard and told me that the following song really helped her get through some tough days she'd encountered while battling her cancer.
She was sharing her faith with me and was a brand new believer. She had no idea that I was too :) She had never heard of Bible study and was trying to wrap her mind around all the greatness of God that she was learning about. We had a wonderful visit and she went home to get a nap in before her kids were due back home.
I was so touched that in the middle of what she was enduring, she made the time to come comfort me. She wanted me to have the comfort that only God could provide. What a beautiful, beautiful person.
8 months later she passed away. I put the Third Day CD in my car and listened to it each day on my way to and from work for quite a while. Her song that she so kindly shared with me touched me in a whole new way.
Putting the two thoughts together: Melissa and friend forever....bring a HUGE smile to my face ;0 a little tear because I wish I could call her up, but it's quickly followed by more smiles because I cannot wait to be reunited with her someday...and have her be a part of my forever ;0
Here are a few pics...not the best I could find. Those are still floating somewhere from when we took them out to use them for the memorial service...but a few good ones nonetheless.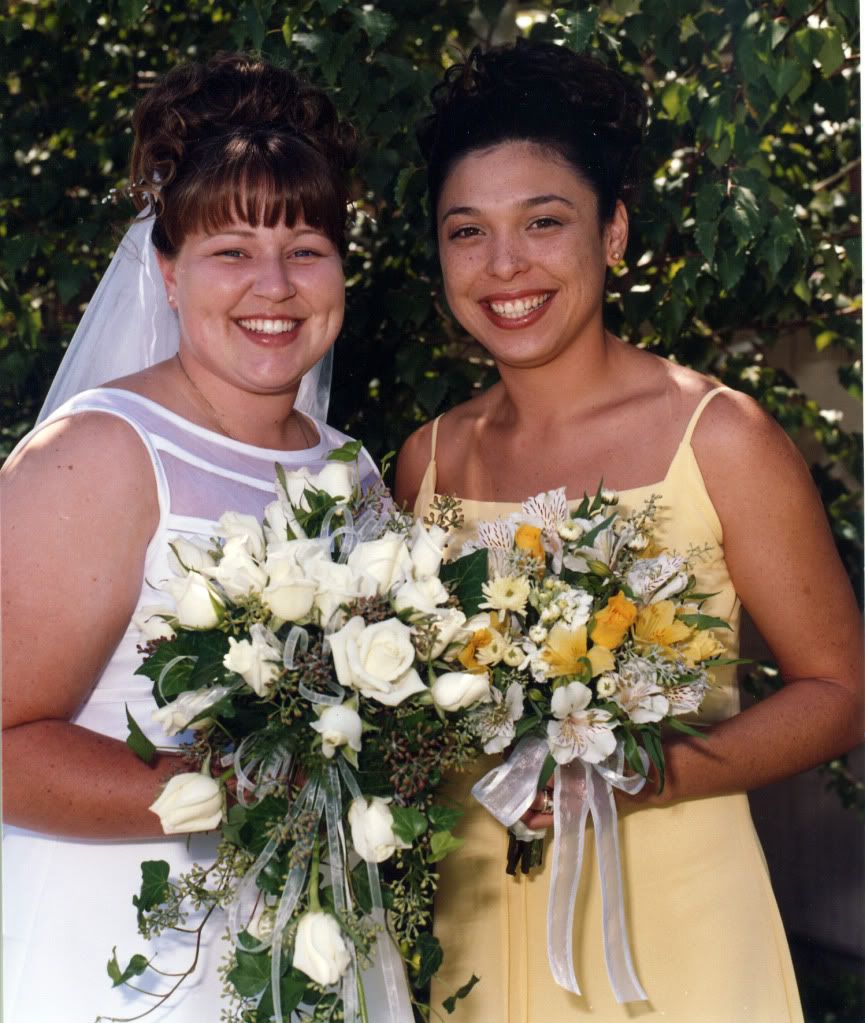 ...her bff April between us...hanging out in college...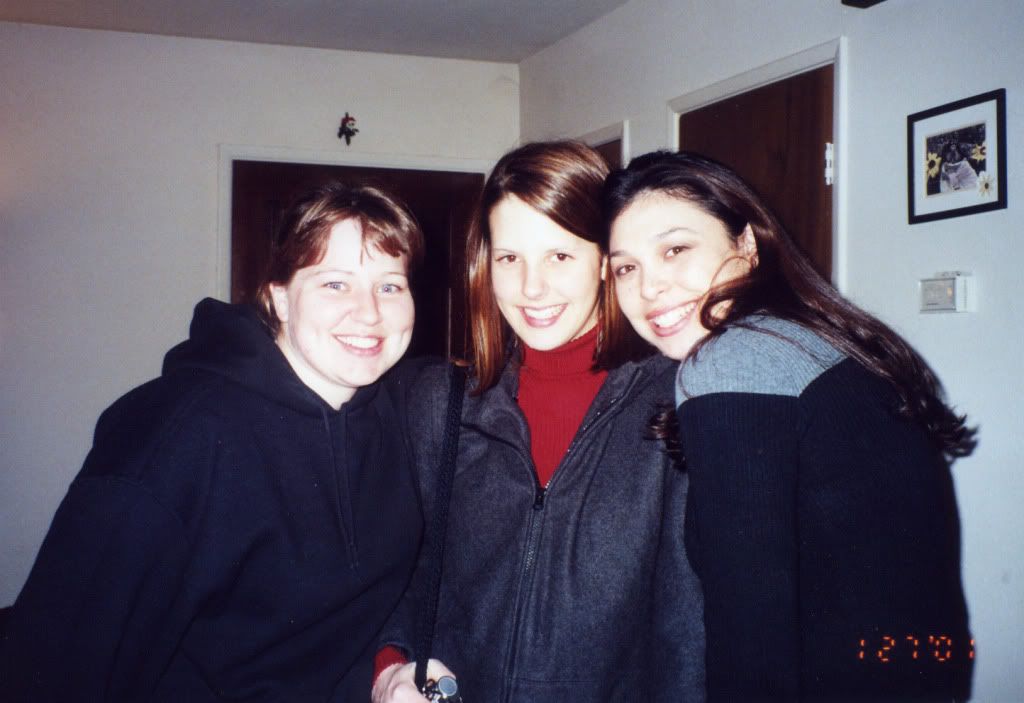 ...these are 'the girls' from high school at April's wedding...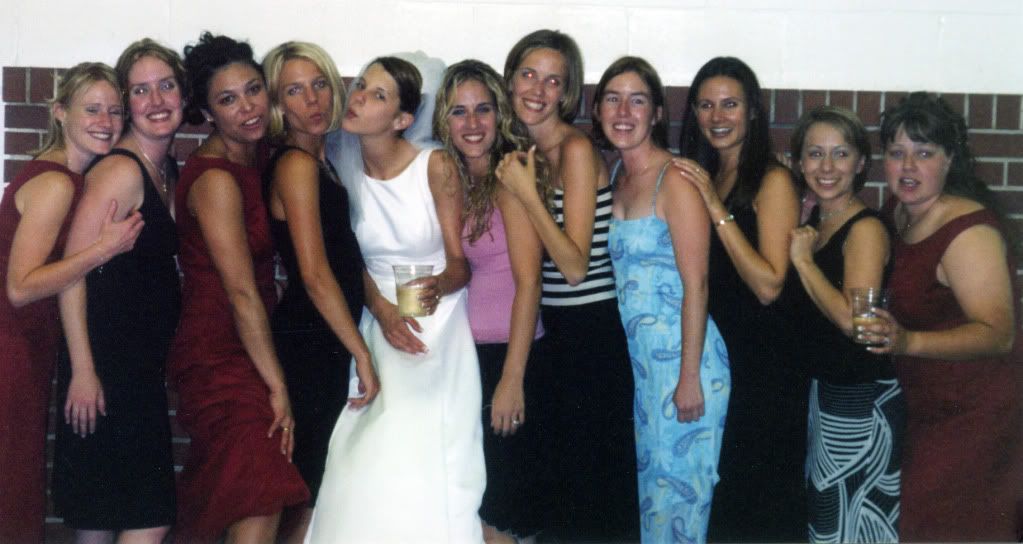 ...Melis hanging on to her hubby Josh, and the rest of us from our table...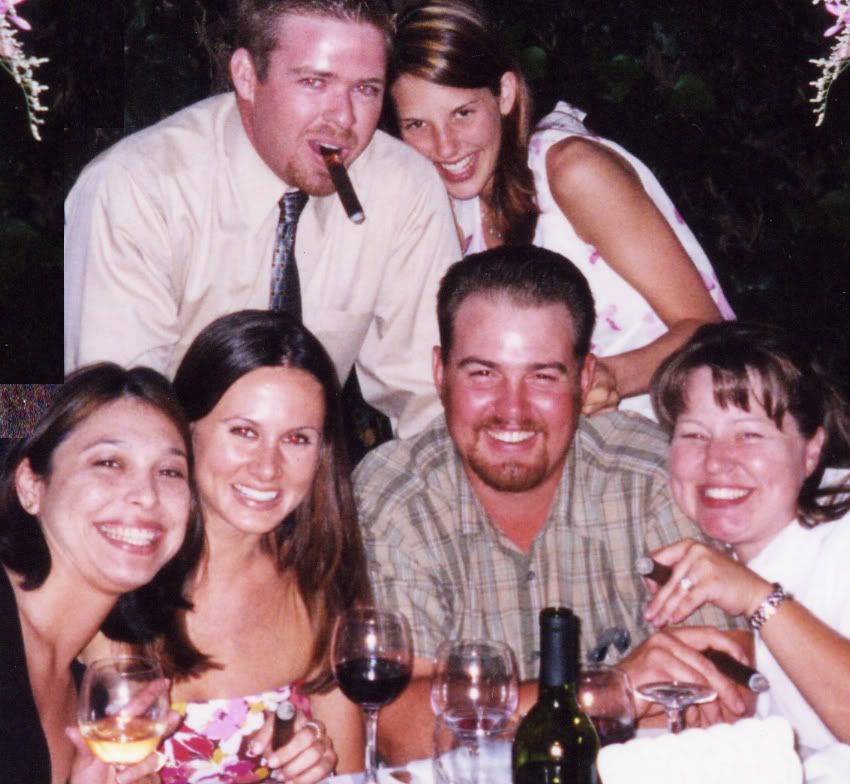 Man...more smiles and tears looking at those pics. Love and miss you, Tonta ;0 Someday....forever!