So, it's supposed to be 'wordless wednesday' but I've been relatively 'quiet' for a while now, so...if you would like to scroll past/ignore my words, feel free. I think the photos speak for themselves anyway.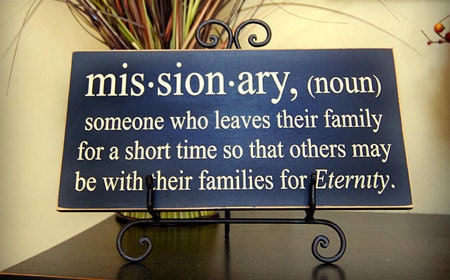 I was bouncing around on blogs/etsy this week and came across this definition of a missionary and it just made me teary...and call crystal right away. We all talk about how much we miss them and love them and pray for them on their journey of trying to reach others and fulfill their mission of training pastors in the Philippines...and we're usually sad for us (and them) that we are so far a part.
Then I read this and was like, "
OH (yeah)
".
We already have guaranteed that we'll be spending eternity with Jason, Crystal and the boys. And of course eternity is forever and ever and no time ;0 The days that we miss them here we should be reminded of the fact that they are out there doing their part for others to spend eternity with
their
families.
We're all anxiously awaiting the Lord's return anyway...so let us not be sad when they're gone, but be glad that they're growing the kingdom. And let us enjoy them whenever the Lord brings them to the states so we can enjoy a little time with the here and now ;0
Happy Wednesday. :)